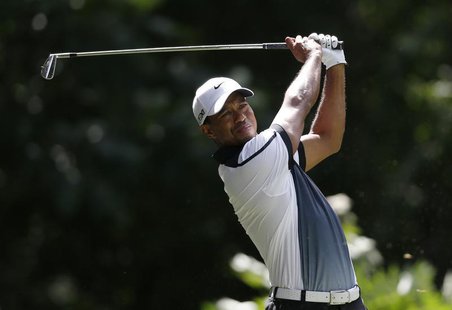 By Frank Pingue
ROCHESTER, New York (Reuters) - American Jim Furyk used a red-hot putter to leapfrog Jason Dufner for a one-shot lead after Saturday's penultimate round of the PGA Championship, as Rory McIlroy battled his way back into the tournament.
Furyk, who began the round two shots back of Dufner in a three-way tie for second, drained an 18-foot birdie putt on the par-four 17th en route to a two-under-par 68 that put him at nine-under 201 for the year's final major.
"Overall, I'm comfortable with where I'm at," Furyk, 43, told reporters.
"There's a crowded leaderboard at the top and instead of really viewing it as who is leading and who is not, I'm really viewing it as I need to go out there tomorrow and put together a good, solid round of golf, fire a good number and hope it stacks up well."
Dufner (71) scrambled a par on the 18th after sending his tee shot into the deep rough, but a brilliant approach to about 10 feet and a putt that curled around the right lip of the cup before dropping in left him alone in second.
Swede Henrik Stenson (69) was a further shot back while compatriot Jonas Blixt (66) moved into fourth.
Masters champion Adam Scott began the day level with Furyk and Matt Kuchar (76) but slipped into a tie for fifth place with Steve Stricker (70) after a two-over 72 that included a double-bogey six at the 16th.
Furyk managed to deal with the swirling winds best at Oak Hill as he offset two early bogeys with a pair of birdies on the front nine and then grabbed the lead with a birdie on the 10th.
He traded a birdie for a bogey over his next five holes before that long putt on 17 and a 15-foot par from the fringe on 18 that left him in prime position to claim his first PGA Tour win since 2010 and first major since the 2003 U.S. Open.
"It was nice," Furyk said of his putt at 18. "I don't think it would have ruined my day had it not gone in, but it was definitely the icing on the cake."
Dufner was cruising along with a string of pars and enjoying a three-shot lead when his tee shot at the par-four fifth went into a creek.
After sending his third shot right of the green and chipping well past the hole, Dufner two-putted for a double-bogey six that cut his lead to one stroke.
The PGA Championship runner up in 2011, Dufner opened his back nine with a birdie before making pars the rest of the way, most notably at 18 when he looked headed for a sure bogey after an errant tee shot.
"These golf courses put a lot of stress on your game. You have got to be really prepared and when doubt creeps in to kind of put that in another spot in your mind and be confident," said Dufner.
"It's kind of a tussle out there between yourself and your mind. You'd like to get some birdies early so you can get a little but more comfortable."
QUICK GREENS
Only 11 of 75 players in action on Saturday managed to break par as sunny skies and blustery conditions combined to make Oak Hill's greens quicker and low scoring at a premium.
Scott got off to a quick start by draining a 20-foot birdie putt at the first to move one back of playing partner Dufner but bogeyed the next two holes to slip further behind.
The Australian then went on a string of 10 consecutive pars before driving the 318-yard par-four 14th for a birdie to move back into the mix but his hard work was undone on the 16th.
Kuchar also got to within one shot of Dufner with a birdie putt at the opening hole after his approach from 186 yards landed about three feet from the pin. But a double-bogey and three bogeys over his next eight holes hurt his chances.
The game's two leading players, Tiger Woods (73) and Phil Mickelson (78), both tumbled out of contention.
Woods started the day 10 strokes off the pace and finished 13 behind and tied for 46th. Mickelson, who won his fifth major title at last month's British Open, fared even worse, ending the day 19 shots off the pace, in second-last place of the 75 players who made the cut.
McIlroy, who was five over for the tournament at one point on Friday and in danger of missing the cut, roared back into contention with a three-under 67.
The defending champion capped his round in brilliant fashion, taming Oak Hill's infamous tough closing stretch with birdies at 17 and 18, including a chip-in from behind the green at the last.
"The way the conditions are with the swirling wind, it's tricky out there," said McIlroy, who was tied for seventh with Lee Westwood (68).
"I felt good enough about my game that I could go out there and post a good one today and at least give myself a chance going into tomorrow."
(Reporting by Frank Pingue; Editing by Julian Linden)