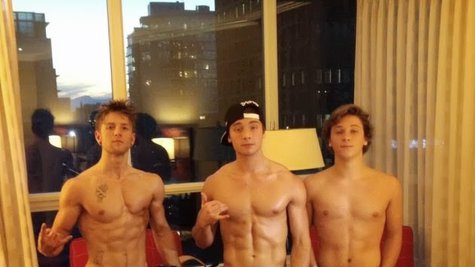 Just last Monday, photos surfaced online of Justin Bieber in the nude, his gentleman's parts obscured only by a guitar. Let the mocking begin.
On Wednesday, Emblem3 tweeted a photo of the three of them -- all of whom are extremely buff, by the way -- standing naked in a hotel room, with a guitar covering their privates as well. To be completely accurate, Wesley Stromberg is actually holding a MIDI keyboard in front of his junk. The photo's accompanied by the tweet, "Hey @justinbieber, we're in Canada ready for the jam sesh!"
The reason they're in Canada makes the tweet sting even more: the trio is opening for Justin's ex, Selena Gomez , as her Stars Dance tour gets underway tonight in Vancouver, BC.
Justin seems to be doing OK, though. E! Online reports that he was seen on a lunch date Tuesday in Beverly Hills with 20-year-old aspiring model Ashley Moore .
Copyright 2013 ABC News Radio