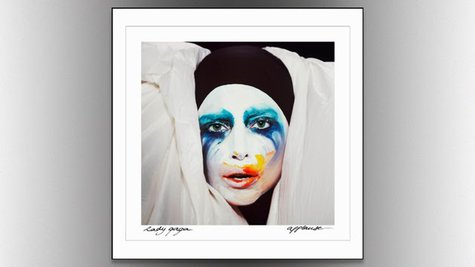 After promising to reveal her lyric video for "Applause" at 3 p.m. ET on Wednesday, Lady Gaga finally delivered the clip to fans about three hours late. If you've ever wondered what it'd be like to go clubbing with the singer, well, this video has the answer.
The clips shows Gaga, in a black dress, black hair up in a bun and multicolored face paint, partying at gay club where drag queens are providing the entertainment. According to E! Online , the club is Micky's in West Hollywood. She put a call out for fans to join her at the club Monday night for the filming, and the video shows everyone partying and having a great time as the drag queens strut their stuff on a runway. Towards the end of the clip, Gaga is seen posing for photos with everyone, and then exiting the club in a crush of paparazzi.
The lyric video also shows what Gaga is actually singing, which was a matter of some discussion. Many people thought that in the second verse, she was singing, "One second, I'm a kunst /then suddenly the kunst is me" -- the word "kunst" is German for "art." But the video reveals that she's actually singing "Koons," as in the artist Jeff Koons , with whom she has reportedly been collaborating.
Gaga will debut the official video for "Applause" on Monday on ABC's Good Morning America.
Copyright 2013 ABC News Radio