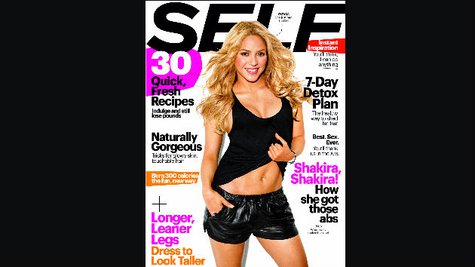 As if we don't already envy Shakira for her beauty and her talent, she's now showing off her amazing abs on the cover of the new issue of Self magazine , less than a year after giving birth to son Milan . But the singer admits she worked hard to get her body back in shape, and she's more than happy with the results. "I'm quite proud of my rear," she tells Self.
Sculpting her butt was just one of the goals of Shakira's makeover plan: she had to look gorgeous on The Voice just two months after Milan arrived in January. She tells the magazine that to start with, she avoided gaining a lot of weight during the pregnancy by doing Zumba the entire time. After Milan arrived, she says she continued doing it four to five days a week, and even hired Beto Perez , the guy who invented Zumba, to train her privately for a week.
On top of that, Shakira did special work on her booty and legs, plus cardio dance moves and ab exercises. "Two minutes of ab work isn't enough," she declares. Of course, her diet had to change: she ate eight small meals a day, of between 200 and 250 calories each.
Of course, no woman is ever entirely happy with how they look -- but Shakira she doesn't stress too much about it. "I don't obsess over my flaws, because I see my body as a whole," she tells Self . "Besides, I think men appreciate confidence more than perfection."
Read the entire interview with Shakira, which also includes details of her charity work, in the September issue of Self, on newsstands August 20.
Copyright 2013 ABC News Radio