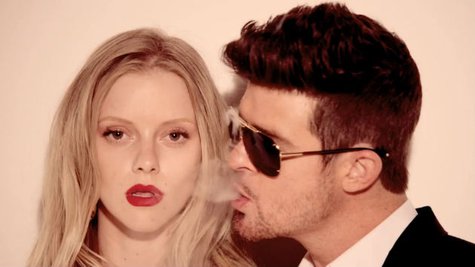 For the last month or so, there has been endless speculation about what hit truly deserves the title of "Song of the Summer." Well, now, the editorial director of Billboard.com has weighed in on the topic, and he says definitively that it can't be anything other than..."Blurred Lines."
Billboard's Bill Werde tells Businessweek.com that the Robin Thicke hit is undeniably the song of the summer of 2013, explaining, "It's on track to become the most played song in radio history. [But] this song wouldn't have gone anywhere if it wasn't for the naked video. No one would have paid attention." He adds, "People like to look at topless women."
But it isn't just the naked video that's made "Blurred Lines" the song of the summer. As Werde explains, "It's a format game. If you have a hit that crosses into all formats, your hit is like a mushroom cloud, and that's what Robin Thicke is doing. Robin Thicke wasn't even in the conversation, and now he has the biggest song of the summer."
Indeed, "Blurred Lines" just became the first song in history to hit number one on five different radio charts, from Top 40 to Urban.
But what about the controversy over the song? Some claim the video is misogynistic, while others have used the dubious word "rapey" to describe its sexually aggressive lyrics. Werde dismisses the idea. "My wife minored in feminist studies and she loves that song," he says. "That in itself is not proof of it not being rapey."
Copyright 2013 ABC News Radio