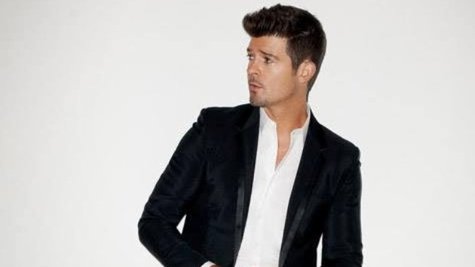 Resistance is futile: Robin Thicke 's "Blurred Lines" is the song of the summer, and perhaps the entire year. It's just topped the Billboard Hot 100 for an amazing 10th week . The last song to stay on top that many weeks was Rihanna 's "We Found Love," back in 2011.
In fact, that song and "Blurred Lines" are now tied for the title of longest-running #1 hit of this decade, according to Yahoo! Chart Watch. The last song to spend more time at #1 was "I Gotta Feeling" by the Black Eyed Peas , which topped the charts for 14 weeks back in 2009. So how does Robin plan to follow this up? With more naked videos, it appears.

Speaking to Canada's QMI Agency , Robin says that he's shot an "over the top" video for his next single, "Give It 2 U," and describes it as "a Super Bowl halftime spectacle" with a "couple of more wardrobe malfunctions probably." As for the controversy over the topless models in the "Blurred Lines" video, Robin says people overreacted.
"I was thinking it was funny and silly and 'wink, wink, elbow, elbow' kind of stuff," he says. "I do understand if your job is to look out for misogyny in culture you got to report on it. But I do think some people got a little harsh and didn't see the whole point which was we just wanted people to have a good time and laugh and dance."
So, can "Blurred Lines" stay at #1 for an 11th week? It's facing a big challenge from Katy Perry 's "Roar" -- which has debuted at #85 but could very well jump to #1 next week -- and Lady Gaga 's "Applause," which hasn't entered the chart yet, but could debut at #1.
Copyright 2013 ABC News Radio