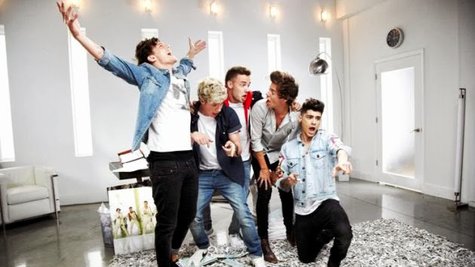 Relax, Directioners: your boys are not about to be sued by a classic rock group.
A rumor that started online -- and that was later fueled by the British press -- claimed that legendary rock band The Who is planning to sue One Direction over their hit "Best Song Ever," because its intro is similar to that band's 1971 classic tune "Baba O'Riley." But Who guitarist Pete Townshend , who wrote "Baba O'Riley," says he's a fan, and doesn't mind the similarity at all.
In a statement to Uncut magazine, Townshend emphatically denied that he'd consider suing over the song, and added, "I like the single. I like One Direction. The chords I used and the chords they used are the same three chords we've all been using in basic pop music since Buddy Holly , Eddie Cochran and Chuck Berry made it clear that fancy chords don't mean great music -- not always." In case you don't know, those three guys Townshend mentioned are famous rock stars from fifties who were big influences on The Who.
Townshend went on to say, "I'm still writing songs that sound like 'Baba O'Riley' -- or I'm trying to! It's a part of my life and a part of pop's lineage. One Direction are in my business, with a million fans, and I'm happy to think they may have been influenced a little bit by The Who." Townshend then joked that he's "relieved" that the members of 1D aren't copying the Who's fashion styles from the sixties and seventies .
It's important to note that the guys in One Direction didn't even write "Best Song Ever," so they had nothing to do with the musical similarities between the two songs. The song's producer told MTV, "At a certain point we recognized it had the same type of intro, where there's a synth and a piano, but we really tried to make sure that there was no intellectual property stolen or anything like that."
In addition, Townshend's correct when he says that the Who have influenced 1D, at least in some way. The group's Niall Horan is a massive fan, and was even spotted in the audience when The Who performed in New York City last fall. He often wears a Who T-shirt as well.
Copyright 2013 ABC News Radio