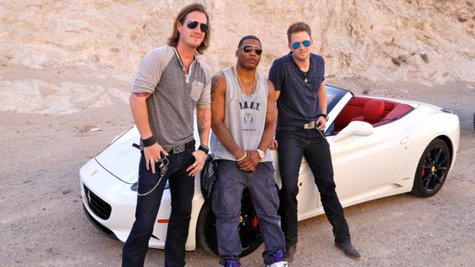 One of the most surprising hits of the summer has definitely been "Cruise," by the country music duo Florida Georgia Line . Many months after the song became a hit on the country charts, it became a smash on the pop charts, too, thanks to the addition of Nelly on the track.
"Cruise" has now sold some five million downloads since its release last year, and, while Florida Georgia Line may be surprised that the song is now played on the radio next to Bruno Mars and Pink , they said they knew immediately that the song would be popular.
"We knew we had something special the day we wrote it," says the duo's Brian Kelley . "And ever since we started playing it out we always got a good reaction. It's just a feel-good song. We didn't write it or even plan it to come out when it did. I guess it just hit at a good time, and we're getting fans that aren't even country music fans. So, they're just spreading it like wildfire. Man, it's crazy."
In fact, Brian says that for him and his musical partner Tyler Hubbard , "Cruise" appeared as if by magic.
"As songwriters, when you get lucky on days, you kind of thank the songwriting gods," he explains. "'Cause that one kind of fell out of the sky." He explains, "We were in the middle of writing another song, and a line just kind of came out and we rolled with it. And got back in the studio and tweaked some stuff, and we're really thrilled about it."
And if you're wondering if the lyrics of "Cruise" describe what Tyler and Brian actually get up to in their spare time, well, they do, actually.
"There's nothing better to me," Brian says, noting that Tyler "likes riding on his motorcycle" and notes that "he'll cruise with his truck and windows down." As for himself, he says, "I love just getting out and hitting some back roads anywhere. We're always gonna have our music up and windows down. It's refreshing man. There's nothing really better than that."
Copyright 2013 ABC News Radio