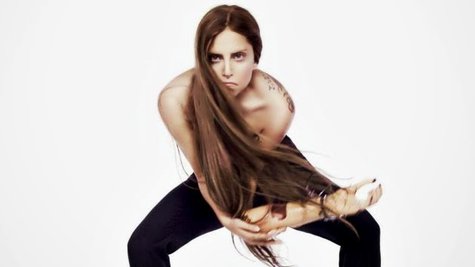 Lady Gaga 's legions of fans are very protective of Mother Monster, and anyone who attacks her is in for a huge torrent of abuse online. But Gaga's Twitter feud with gossip blogger Perez Hilton , in which she accused him of stalking her, has really gotten her fans riled up...to the point where she's now begging them to calm down.
In a posting on the Tumblr site for her Born This Way Foundation, the charity she co-founded with her mom, Gaga explains why attacking people online on her behalf is not what she wants.
"My mother and I are passionate about tolerance, acceptance, and kindness, and I've made it a point early in my career to make it known that this is what I stand for as an artist," she wrote. "While it may be difficult at times to hear the things that people say and write about me...I feel the need to address you all here on behalf of the Born This Way Foundation."
Gaga then wrote, "Sending threats of any kind, using hateful or abusive language, and the provoking of others on the internet is not supported by me or anything that I stand for. What I've seen transpiring is wrong and upsetting to me, and I've made it very clear how I feel about equality and compassion."
She goes on to tell her fans that she understands "how angry you feel sometimes," because "when they say things about me, you feel that they are saying them about you as well." But she points out that music is about "love," and that "by engaging in this negativity, you are allowing it to spread."
Then Gaga asks her fans to pledge, along with her, to "continue the change toward positivity, and to recognize that this behavior is wrong."
"We are stronger than this," she writes. "We know what we stand for, and what we stand for is bravery... I know this because what I see on the internet is not what I see at my shows."
The singer explains that, while it's easy to "vent your anger" via social media because it's anonymous, "this is not a healthy way to handle your emotions." She encourages fans to find "another outlet for your feelings," adding, "Put it in your art, put it in your music, put it in your creativity. Stop the Drama, Start the Music."
Gaga ends by asking Twitter and other social media platforms to work to monitor abusive and threatening language as well, because, she says, "I don't know that I am powerful enough to stop it myself." She ends by telling fans, "I love you."
The tweets that Gaga sent in which she accused Perez Hilton of stalking her have all been deleted, by the way.
Copyright 2013 ABC News Radio