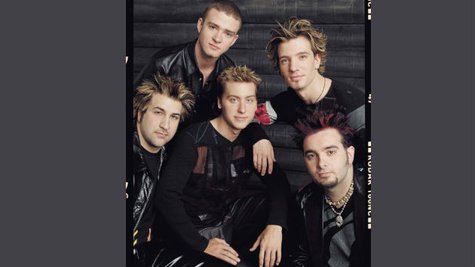 OMG! 'N SYNC may reunite on the MTV Video Music Awards on Sunday! Believe it or not, this momentous news was greeted on Twitter with a resounding cry of..." Who's 'N SYNC? "
Buzzfeed has rounded up a sampling of perplexed tweets and texts from people -- presumably very young people -- who honestly have no idea who 'N SYNC is. This despite the fact that they really only stopped working together in 2004, and Justin Timberlake went on to become one of the biggest stars in the world. Group members Joey Fatone and Lance Bass have been pretty visible in the past nine years as well, and 'N SYNC's music has been featured on Glee , but evidently, this hasn't sunk in.
"Everybody is here freaking out bc NSYNC and I am here like 'Who's that'," tweeted one person. According to Buzzfeed, other reactions include, "I've never heard N-Sync," "Who's that," "What's NSYNC," "Who knows who NSYNC is," "Wth [what the hell] is NSYNC," and "I don't know what NSYNC is tho."
According to Buzzfeed, when other users attempted to set these poor, misguided youths straight, one wrote, "Leave me alone I'm 12," while another wrote, "I thought that stood for some s**t like NCIS lol." Still another wrote, "You mean Justin Timberlake & Friends?"
Of course, something similar happened when rock music legend Paul McCartney appeared at the Grammys and young kids started tweeting that they had no idea who he was. But that was understandable: McCartney first became famous 50 years ago.
By the way, for all the people out there who don't know who 'N SYNC is, here's how popular they were. These days, it's a big deal when an artist releases an album and it sells 500,000 copies in its first week. Back in 2000, 'N SYNC sold 2.4 million copies of their album No Strings Attached in one week. That record still stands today.
Copyright 2013 ABC News Radio