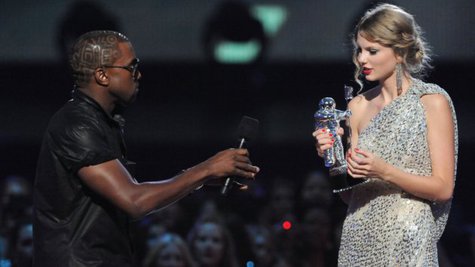 Sometimes it takes becoming a parent to completely change someone's perspective. Take Kanye West for example. The rapper said recently that he had no regrets about bum-rushing the stage four years ago at the MTV Video Music Awards and interrupting Taylor Swift , but now that he's a new dad to baby North , he seems to have realized the error of his ways.
Appearing on the talk show hosted by his baby's grandmother, Kris Jenner on Friday, he said, "The last thing I would want to happen to my daughter is some crazy drunk black guy in a leather shirt to come up and cut her off at an awards show. That's the last thing I would want."
As the audience laughed and applauded, Jenner said to Kanye, "But you look at stuff like that so much differently today because you have a daughter...a whole different perspective to things that have happened in your life." "Oh definitely, definitely," Kanye agreed. "I was just like a crazy rock star, y'know?"
While Kanye did apologize to Taylor the day after the VMA incident -- and Taylor told ABC News Radio exclusively that she'd accept his apology -- this year, he told the New York Times that he felt he'd been pressured into offering that apology and that it was a "backhanded" apology.
Both Taylor and Kanye will be at the VMAs this Sunday...let's hope that they keep their distance from one another.
Copyright 2013 ABC News Radio