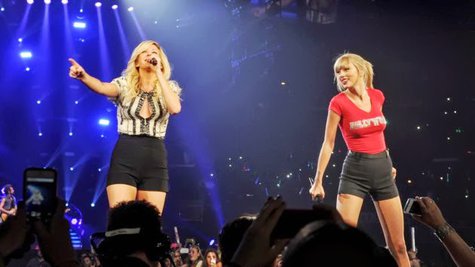 Taylor Swift's RED tour guest star parade continued Friday night at the Staples Center in Los Angeles: she welcomed Ellie Goulding onstage to perform Ellie's hit "Anything Could Happen."
"So...Anything could happen at one of our LA shows," Taylor tweeted afterwards. " @elliegoulding showed up to sing 'anything could happen'! 15,000 person dance party." Ellie tweeted, "Still blown away by how incredible the @ taylorswift13 show is and how lucky I feel to have been a part of that last night." Ellie also posted a photo of the performance, adding, "So.much.fun. Love that girl."
Taylor then posted her own photo, and tweeted lyrics from the song: "Now I've seen it through, and now I know the truth... That anything could happen."
Taylor has also welcomed pop duo Tegan & Sara , British singer Cher Lloyd and Sara Bareilles onstage during her run at Staples Center.
Copyright 2013 ABC News Radio