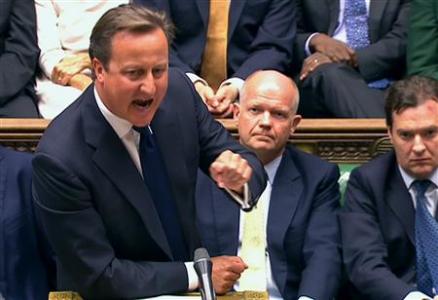 LONDON/BEIRUT | Fri Aug 30, 2013 4:24am EDT
(Reuters) - Britain will not join any military action against Syria after a stunning parliamentary defeat on Thursday of a government motion on the issue, dealing a setback to U.S.-led efforts to punish Damascus over the use of chemical weapons against civilians.
Following a 285-272 vote against a motion by British Prime Minister David Cameron to authorize a military response in principle, British Defense Secretary Philip Hammond confirmed Britain would not be involved in any action againstSyria.
Hammond said key ally Washington would be disappointed that Britain "will not be involved," although adding, "I don't expect that the lack of British participation will stop any action.
But he told BBC TV, "It's certainly going to place some strain on the special relationship," referring to ties with Washington.
U.S. officials suggested President Barack Obama would be willing to proceed with limited actions against Syria even without specific promises of allied support because U.S. national security interests are at stake.
"President Obama's decision-making will be guided by what is in the best interests of the United States," White House spokeswoman Caitlin Hayden said in a statement after the British vote. "He believes that there are core interests at stake for the United States and that countries who violate international norms regarding chemical weapons need to be held accountable."
U.S. Defense Secretary Chuck Hagel said Washington would continue seeking out an international coalition to act together on Syria.