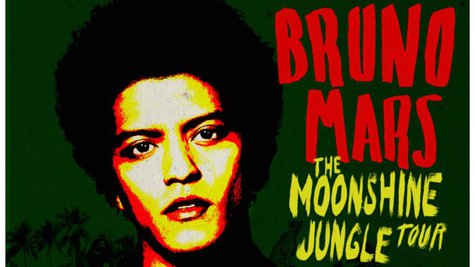 If you didn't get a chance to see Bruno Mars on his Moonshine Jungle world tour this past year, don't worry: you're getting another chance. Next week, the singer will announce a new batch of North American dates for 2014.
After he headlines the Super Bowl in early February, Bruno will spend a big chunk of March touring in Australia and New Zealand, and then he'll head to Asia for a slew of newly announced dates which will keep him overseas through mid-April. He's also just announced two shows in Mexico in September, so he basically has the whole summer free to tour the U.S. and Canada.
While touring Asia, Bruno will perform March 22 in the Philippines, and a portion of the proceeds from that show will benefit Typhoon Hiayan relief. Being part-Filipino himself, that's obviously a cause that's dear to the singer's heart.
Bruno's Asian tour will also take him to Thailand, Indonesia, South Korea, Taiwan and Tokyo.
In other Bruno news, his name is likely to be called Friday night when the Grammy nominations are announced. His album Unorthodox Jukebox was released too late last year to qualify for the Grammys that were handed out back in February of this year, so he should receive several nods for the Grammy ceremony that will take place this February.
Copyright 2013 ABC News Radio