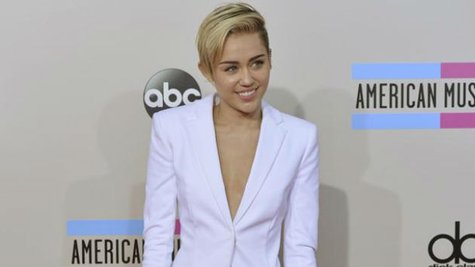 After a whirlwind year that would make anybody's head spin, Miley Cyrus has decided to spend New Year's Eve somewhere relaxing: Miami, Florida.
However, she won't be twerking on the beach: E! Online reports that Miley will host the 2014 New Year's Eve bash at Miami's Fountainbleau Hotel, along with her buddy Pharrell Williams . While Pharrell will perform, as will Afrojack , Miley is not scheduled to rock the mic herself at the poolside party.
In other Miley/Pharrell news, though they both have been named one of Entertainment Weekly 's "Entertainers of the Year," Miley says for her, it was Pharrell, and not the magazine's choice of Sandra Bullock , who was truly #1.
"I really think Pharrell [Williams] is the entertainer of the year," she tells EW. "Not only for what he did on my record but for what he did in the music industry in general with 'Blurred Lines' and Daft Punk ...I couldn't be more happy for him and what he accomplished this year in everything -- in fashion, in art, everything he does."
She adds, "There's not a better person I would wish that on. He's the best person I've ever gotten to watch and learn from."
Copyright 2013 ABC News Radio