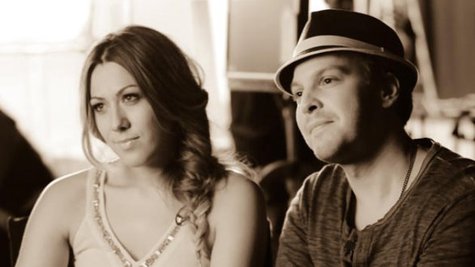 Original songs written and recorded for movies by Colbie Caillat and Gavin DeGraw , Fergie, Beyonce , Taylor Swift , U2 , Coldplay , Ed Sheeran and more are among the 75 tunes eligible to receive Oscar nominations this year, the Academy of Motion Picture Arts and Sciences has announced.
U2's "Ordinary Love," from Mandela: Long Walk to Freedom; Colbie and Gavin's "We Both Know," from Safe Haven; Beyonce's "Rise Up," from Epic; the Fergie-co-written song "A Little Party Never Killed Nobody," from The Great Gatsby; Coldplay's "Atlas," from The Hunger Games: Catching Fire; Ed Sheeran's "I See Fire," from The Hobbit: The Desolation of Smaug; and Taylor Swift and Jack Antonoff 's "Sweeter than Fiction," from One Chance , have all been accepted for the nominations process.
Also in the running is "Cut Me Some Slack," a song Paul McCartney co-wrote with two ex-members of the band Nirvana for a documentary, and "Happy," a song that Pharrell Williams penned for Despicable Me 2 . You can see the full list at Oscars.org.
One that didn't make the cut: the Justin Timberlake co-write "Please Mr. Kennedy" from Inside Llewyn Davis . While it received a Golden Globe nod, the Oscars won't allow it because it's derived from a previously existing song.
All the voting members of the Music Branch of the Academy will now receive clips of the songs and vote for them in order of preference. No more than two songs from any one film can be nominated. Out of the 75 tunes, the five that receive the most votes will be the final nominees for the Academy Award for Best Original Song for a Motion Picture; those nominees will be announced next month.
Last year, Adele won the Oscar for "Skyfall," from the James Bond theme of the same name. The song also won Adele a Golden Globe; it's currently nominated for a Grammy Award, as are "We Both Know" and "Atlas."
Copyright 2013 ABC News Radio