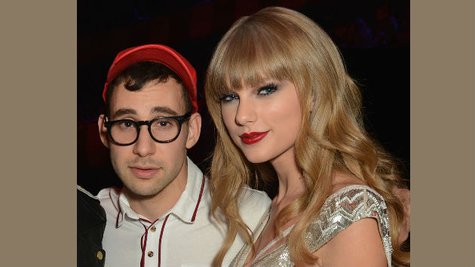 The day before her 24th birthday, Taylor Swift received the second Golden Globe nomination of her career for writing "Sweeter than Fiction," which appears in the movie One Chance . But it was the first nomination for her co-writer on the song -- Jack Antonoff of the band fun . -- and he says he was happy to finally be able to collaborate on a project with Taylor, who he calls "the coolest and the sweetest."
Jack tells ABC News Radio that the two got together because in 2012, he and Taylor kept running into each other at all the award shows that both she and fun. attended that year. "Music is a funny scene, and you don't always meet the coolest people, and she is the coolest -- and the sweetest," Jack says. "And so I was really excited to always see her at these things."
What led to their eventual collaboration, according to Jack, was the fact that he and Taylor bonded over one random bit of music: the snare drum sound on the 1989 #1 hit "She Drives Me Crazy" by Fine Young Cannibals . "That led to like an idea for a track, and then that led to working on music together," explains Jack. "And then that eventually led to 'Sweeter than Fiction,' which led to this [nomination]."
"She'd seen the film and I think there was conversation about a song," Jack continues. "And then I sent her this track, and then she called me, and she was like, 'This is perfect for this film, which I love.' And....there was a lot of synergy there, and it was all perfect in the moment." Jack says that the title "Sweeter than Fiction" was all Taylor's idea. The two haven't actually gotten together to celebrate yet, because Taylor's been in Australia, but he says they have texted.
Asked what he thinks his and Taylor's chances are of winning, considering that they're up against Coldplay , Justin Timberlake and U2 , Jack tells ABC News Radio, "It's so cliche when people say it, but it's just so exciting to be included...all the people you just named are some of my favorite artists, so I couldn't really think of anything beyond that."
But the Golden Globes aren't the only nominations that have Jack excited. Sara Bareilles has been nominated for Album of the Year for her disc The Blessed Unrest, and for her performance of the album's lead single, "Brave." Turns out Jack co-wrote that particular song, so he's thrilled about Sara's nominations. "That was always one of my albums of the year, and it's just pretty bananas that the Grammys agreed!" he tells ABC News Radio.
And on top of that, Jack's band mate, singer Nate Ruess , has been nominated for two Grammys for his work on "Just Give Me a Reason," his duet with Pink . Fun. swept the Grammys in February of this year, and Jack laughs, "It's so crazy...him with the Grammys, and then me [with the Golden Globes]....it's kinda just amazing that we could have had the year we had last year, and still be associated [with these awards], even without a new album."
The Golden Globes will be handed out January 12; the ceremony airs live on NBC. The Grammys will be handed out January 26, live on CBS.
Copyright 2013 ABC News Radio