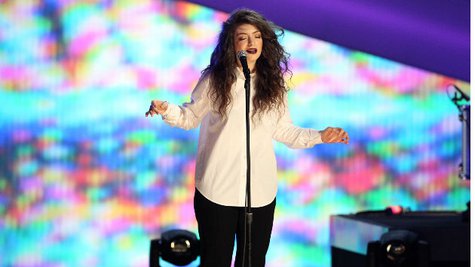 In a year which saw quite a few pop stars make headlines for shedding their clothes -- or appearing in videos with models who shed their clothes -- some point to Lorde as an example of a young female star who doesn't need to resort to such antics to get her point across. But Lorde herself says that if other singers enjoy getting nude, she's got no problem with it at all.
Speaking to V Magazine for its spring preview issue, the 17-year-old Grammy nominee says, "People like to paint me in a certain way, but I'm a hugely sex-positive person and I have nothing against anyone getting naked. For me personally I just don't think it really would complement my music in any way or help me tell a story any better."
"It's not like I have a problem with dancing around in undies -- I think you can use that stuff in a hugely powerful way," she adds. "It just hasn't felt necessary for me."
You can read the full interview with Lorde in the spring preview issue of V, on newsstands January 16.
Perhaps one reason that Lorde doesn't run around in her undies is that she doesn't think she looks that sexy on stage. During an online chat with fans via Reddit, the singer explained, "When I'm onstage, I don't think about how it looks, I just concentrate on really feeling what I hear. But I totally know I look like Gollum when I perform, so it's cool."
In case you're not aware, Gollum is a slimy, sub-human creature who appears in both the Lord of the Rings trilogy and the first Hobbit film. And, since Lorde is from New Zealand, where those films were made, it kinda makes sense that she'd draw that comparison.
Copyright 2013 ABC News Radio