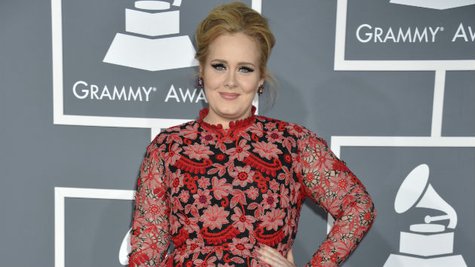 It was announced back in June that Adele would be receiving a special honor from Queen Elizabeth II in recognition of her worldwide achievements, and Thursday is the day she'll be collecting it.
The British paper The Mirror reports that Adele will make a rare public appearance to travel to Buckingham Palace to receive her MBE -- which stands for "member of the Most Excellent Order of the British Empire" -- from Her Majesty. After that, she'll formally be known as Miss Adele Adkins MBE.
This award is given for "a significant achievement or outstanding service to the community." Given that Adele has pretty much single-handedly boosted the British record industry thanks to her monster-selling album 21, plus won an Oscar, a Golden Globe and an armload of Grammys, the award makes sense.
Adele's certainly in good company. The Beatles also were named MBEs, although John Lennon famously returned his medal in 1969, complaining of, among other things, Britain's support of the U.S. in the Vietnam War.
Many other musicians have received similar honors from the Queen, but of a slightly higher ranking than an MBE; there are several other levels, including OBE and CBE. Honorees include Rod Stewart , Annie Lennox , Eric Clapton , Sting and the Bee Gees . Of course, the highest honor is a knighthood, which has been given to the likes of Sir Elton John , Sir Mick Jagger , Sir Paul McCartney and U2 's Bono, though his knighthood is honorary -- because he's Irish, he's not allowed to be called "sir."
Copyright 2013 ABC News Radio