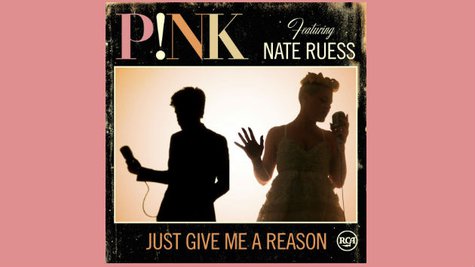 Pink and fun. 's Nate Ruess have been nominated for two Grammys for their hit duet "Just Give Me a Reason," and now, the song is shown provoking a deep emotional response in a new promo for the upcoming Grammy Awards show.
The promo is part of the Grammy's latest ad campaign, called "Music Unleashes Us," and it shows a girl stopped at a traffic light, sobbing, with mascara running down her face, as she sings along to the tune, which is about a troubled relationship. Then, a guy pulls up next to her, and he's also sobbing while singing along to the same song. Sadly, the two don't end up together -- he pulls away, and we see a billboard showing the song's video.
Another promo in the same campaign features Katy Perry 's nominated hit "Roar" -- a guy is running on a treadmill listening to the song on headphones and watching the video, and he starts singing along at the top of his lungs, but of course, all anyone in the gym can hear, embarrassingly, is his voice, not Katy's.
A video on the Grammy YouTube channel shows more of this year's Grammy nominees revealing what they believe music unleashes. Robin Thicke says "Love." Ed Sheeran says, "Sexual tension," and Lorde says, "Strength."
Copyright 2013 ABC News Radio