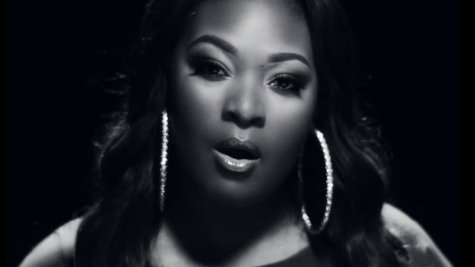 American Idol champ Candice Glover was originally set to release her debut album this summer, but it's now slated to arrive in February. However, her latest single, "Cried," is out now, and the video -- the first one Candice has ever done -- recently premiered on VEVO. But while Candice is moving on with her career, there are still people out there who can't let go of the fact that she, and not someone else, took home the Idol crown months earlier.
"They gets so into it, to this day!" Candice tells ABC News Radio. "I won on May 16th. This is December. People still tweet me, like, 'You shouldn't have won, Angie [Miller] should have won' or ' Kree [Harrison] is better than you.' And they think that we think that way. But we love each other -- they all support me and all that, so there's nothing going on there."
Even worse, Candice says that when she was out on the Idols Live tour this summer, she had to endure what she calls the "death stare" from audience members who were angry and resentful that she won the competition, and had the longest set on the tour. And facing them backstage, during meet-and-greet autograph sessions, was a tad uncomfortable, to say the least.
"It's so awkward to sign something for somebody that's just letting you sign it because you're going through this line -- they really don't want you to sign their stuff, but they give it to you because you're just standing there," Candice tells ABC News Radio. "Some people aren't good at hiding the fact that they don't like you; some people are like, 'Yeah, yeah, yeah, you're really great...but we didn't want you to win.'"
But that's not to say that the tour itself was a bad experience; quite the opposite, says Candice.
"There are some awkward moments when you go out there and some people probably can't stand you, but that is the only thing [that was negative]," she says. "The tour was amazing, all of us got along the entire tour. We hung around with each other even when we weren't on stage and didn't have to be around each other; we wanted to be around each other. So it was a lot of fun."
What wasn't too much fun, Candice reveals, were those times during season 12 when the show was overshadowed by the constant sniping between, and rumors about, now-departed judges Mariah Carey and Nicki Minaj .
"There was a lot of stuff [to deal with]," Candice tells ABC News Radio. "I mean, I woke up one morning and read an article about how Mariah Carey sent me to personality training because she wanted me to win on the [down] low!" She adds, "[There were] so many things that were going on. The stuff about Mariah and Nick...I could've done without the rumors and without the arguments."
Right now, Candice is looking forward to watching the new season of the show, and, of course, to the release of her album Music Speaks on February 18. She says she enjoyed making the video for "Cried," but acknowledges that it was a bit weird to be on the set of a video where she, and she alone, was the star.
"I got my hair and makeup done in the morning and then I walked on the set and it was like all one spotlight, like all on me and the lighting and everything, it was all there for me," she recalls. "And I've never sang like that, in front of a whole bunch of people just standing there, watching. But they were all there for me and wanted me to do a good job."

Look for Candice to appear at some point on the upcoming season of American Idol , which starts in January on Fox.
Copyright 2013 ABC News Radio