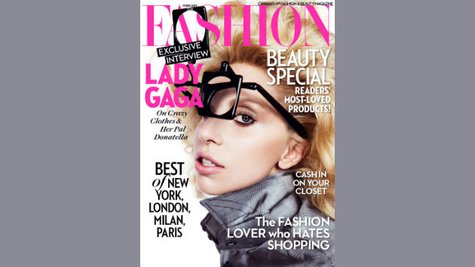 Lady Gaga doesn't talk all that much about her relationship with her boyfriend, actor Taylor Kinney , but their relationship is pretty serious. The two have been spotted packing on the PDA in cities ranging from London to Chicago to New York , and in a new cover story for Canada's Fashion magazine, Gaga confirms: it's true love.
"It has been hard for me to find it but I have found love," she tells the magazine for its February issue. "When you meet someone that's not intimidated by the amazing people that are around you [or] by the love that you receive -- that's love."
In the past, Gaga says, getting boyfriends to accept her career was a problem. "Men weren't always happy for me. It was very challenging to watch a woman be so successful," she tells the magazine.
Gaga also talks about her headline-grabbing outfits, which she insists are simply part of who she is. "I've always cared about my costumes and my clothes. When I leave my apartment I like to look pretty for my fans but not [in a] hot sexy girl [way]—I don't care about that, I just want to make you feel something with what I wear. I want you to feel happy and enjoy the theater of my life the way that I do," she explains.
"This is who I am and its never been an act and its never been marketing. This is me all the way to my core and fashion is a big part of my life," she adds.
Gaga says that her desire to be a performer is also something that is deeply ingrained in her. "There's this implication that if I wasn't so successful, I would have to stop. But I never would have stopped," she insists. "I would be in some bar, being Lady Gaga."
You can read the entire interview with Gaga when Fashion magazine hits newsstands January 13.
Copyright 2013 ABC News Radio