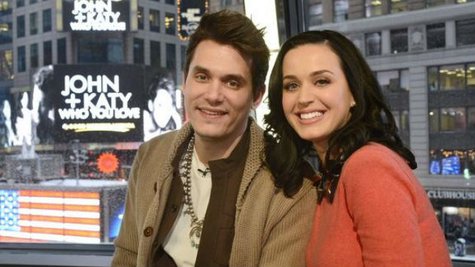 We've been seeing concert "riders" -- those lists of crazy backstage demands by musicians -- posted online for years now. But are you ready for some crazy hotel demands?
Life & Style magazine claims that it has obtained the list of things that Katy Perry and her boyfriend John Mayer -- or their people -- demand they be provided with when they arrive at a hotel. It's no surprise that Katy appears to be a bit more high maintenance: according to the magazine, she requests two dozen types of snacks, including an entire bowl of ranch dressing. She also asks for six different kids of beverages, plus a coffee maker, a full-length mirror and a director's chair.
As for John, his tastes appear to be simpler: he just wants soda, water and a fruit plate. His one big ask is a bottle of Lagavulin 16, a fine aged scotch, which costs $80 a bottle at full retail.
Earlier in the year, John told Ellen DeGeneres that his voice problems had been made worse by his love for scotch, and that he'd had to "dial it down" when it comes to drinking it. "I really loved, love, loved scotch," he explained. "[But] it's just like applying poison to your body. It's like applying a shellac of poison. It's just delicious, wonderful poison."
Of course, Life & Style's report could be complete hokum, so take it with a grain of salt. Or a shot of scotch. Or a teaspoon of ranch dressing.
Copyright 2013 ABC News Radio