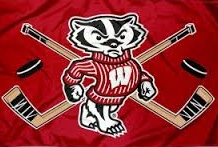 MADISON (WSAU-Badgers) The Badgers hockey team returned from their winter break with a solid 5-0 win over Alabama Huntsville on Friday at the Kohl Center. The win pushed Wisconsin's (9-5-1, 2-2-0-0 B1G) home record to 8-0-1. They're ranked 14th in the nation.
The Badgers set the tone for the game with a dominating display in a first period, thanks to an equal-opportunity offense and stifling defense. Wisconsin held UAHwithout a shot on goal while tallying a pair of goals from Keegan Meuer and Morgan Zulinick.
The Badgers and Chargers play again Saturday night at 8pm.
The Badgers womens hockey team, with a 14-2-2 record, won't play again until January 3rd against St. Cloud State.