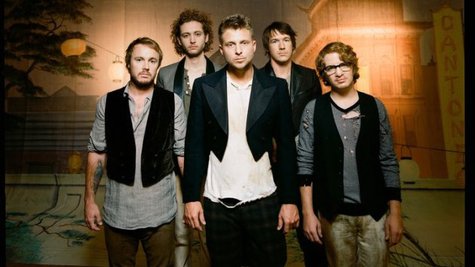 OneRepublic will be in New Orleans this weekend because they're part of the Super Bowl pregame festivities: they and Matchbox Twenty will rock the annual NFL Tailgate Party on Sunday . But while they're in the Big Easy, the band is going to do something even more important: finally complete their new album.

"NOLA here we come. Gonna finish the final 2 songs on our album in New Orleans this weekend & couldn't b more ecstatic!" the band tweeted . The new OneRepublic disc, Native , will be out March 26, and it's been a long time coming. It was originally scheduled for November, but was pushed back, so fans have been waiting a while.
Native is the follow-up to OneRepublic's 2009 album Waking Up , which produced the hits "Good Life," "Secrets" and "All The Right Moves." Speaking about the new album, guitarist Zach Filkins tells ABC News Radio, "I feel like we're definitely gonna gain new fans with this music but the old ones are not gonna be, like, 'Oh, they've changed, we're not into that anymore!'" He adds, "It's just gonna hopefully just broaden every horizon."
The band's Super Bowl performance may end up being a nice advertisement for their upcoming live shows, which singer Ryan Tedder says is coming later this year. "The goal is, God willing, if, if this album and these songs do what we hope and feel they could possibly do, we'll be doing a really big tour summer 2013," he says.
Copyright 2013 ABC News Radio