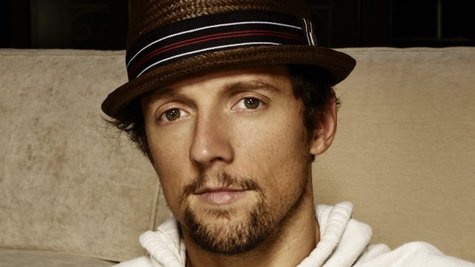 A while back, Jason Mraz sponsored a Twitter contest in which he asked fans to tweet him with the answer to this question: "What does 'The Woman I Love' mean to you?" Now, Jason has taken the answers he's received -- more than 10,000 -- and used them to create his new video for his song of the same name.
The video for "The Woman I Love," which is now online , basically consists of shots of a woman doing various things throughout her day intercut with footage of Jason singing. But what she's doing, and the situations we see her in, actually were inspired by the tweets Jason received. Those whose tweets were used get credit in the video, with shots of their tweets popping up on screen. For example, when the woman is shown planting a flower, we see a tweet from the fan who wrote that to her, "The Woman I Love" means "a flower planted, watered and growing."
At the end of the clip, there are shots of papers and photographs scattered around, all emblazoned with additional Twitter handles of fans who contributed ideas.
As a special Valentine's Day promotion, for the next two weeks you can purchase "The Woman I Love" at your favorite digital music store as a two-track single that includes both the song and the video.
"The Woman I Love" is from Jason's current album Love Is a Four Letter Word , which has produced the five-million-selling hit "I Won't Give Up."
Copyright 2013 ABC News Radio