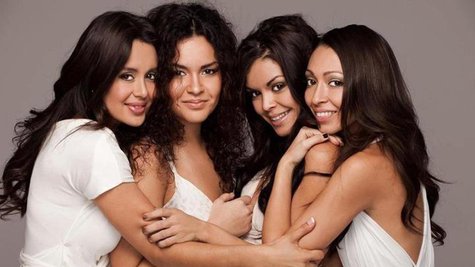 How do you get your own reality show? Well, it helps if you're related to a Grammy-winning, multi-platinum pop star.
Bruno Mars ' sisters Jamie , Tiara , Tahiti and Presley , who record together under the name The Lylas , have a "docu-series" in development with WE tv. The show will follow the sisters from their home in Hawaii to Los Angeles, where they're currently working on their debut album. It will also document the sisters' "dynamic relationship."
In a statement, a WE tv executive said, "The Lylas are fierce, independent women, leaving their home -- and in some cases their relationships and kids -- for a chance at pursuing their love of music." She added, "Their story is one filled with all of the drama and chaos that comes from making a major life change, with the added spice of doing it alongside your sisters."
It's not clear if Bruno will appear in the series with his siblings. The Lylas have just released their debut single "Come Back" on iTunes. The song's video can be seen on YouTube.
Copyright 2013 ABC News Radio