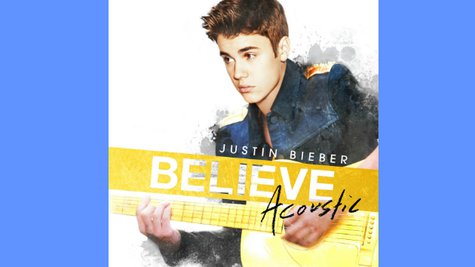 Believe it: Justin Bieber has made history with his new album.
Believe Acoustic has debuted at #1 on the Billboard album chart, with first-week sales of 211,000, according to Nielsen Soundscan. It's Justin's fifth disc to top the charts, which means he's the only artist ever to have scored five #1 albums before the age of 19. Previously, he and Miley Cyrus were tied: both she and he had four #1 albums before reaching that age.
In addition, Justin is now only the 10th artist in the history of the Billboard chart to reach #1 with an album four years in a row.
Another thing Justin will do before the age of 19 is host Saturday Night Live and serve as musical guest. A series of promos for his stint on the show this weekend are now online , and they show him goofing around with SNL cast member Kenan Thompson . In the funniest one of the bunch, Justin introduces himself and says he'll be the host and musical guest this weekend. "Wait a minute, you're Justin Bieber?" asks Kenan. "This is too funny. You're not gonna believe this. All this time, for like three years, I've been stalking the wrong dude!"
Copyright 2013 ABC News Radio