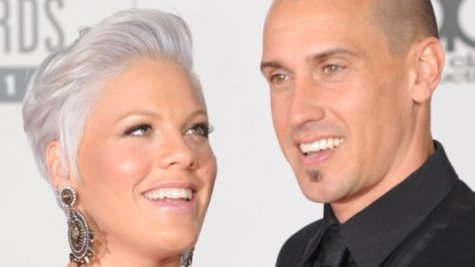 Pink's new video "Just Give Me a Reason" features her singing with fun. 's Nate Ruess , but sharing some steamy, sexy scenes with her real-life hubby, Carey Hart .
The video opens with Pink dolled up in vintage-style blonde curls and a summery, tiered-ruffle dress. As she sings "Right from the start/ You were a thief/ You stole my heart/ And I your willing victim," the scene cuts to her lying on a mattress surrounded by mist and water, accompanied by a big teddy bear with illuminated eyes.
As for Nate, Pink observes him singing on a TV before the two actually come together and duet. In between footage of her and Nate singing, and footage of her lying on the bed alone, she and Carey share some steamy screen time. The couple is seen passionately kissing in the water, and lying on top of each other in bed, canoodling. Still, it's not all sweetness and sentimentality for Pink: she also showcases her physicality with scenes where she is shown diving into, and then singing, underwater.
"Just Give Me a Reason," which is about two lovers struggling to reconcile with one another, is the third single from Pink's Grammy-nominated album The Truth About Love . The second single, "Try," has just become her 13th top 10 hit.
Copyright 2013 ABC News Radio