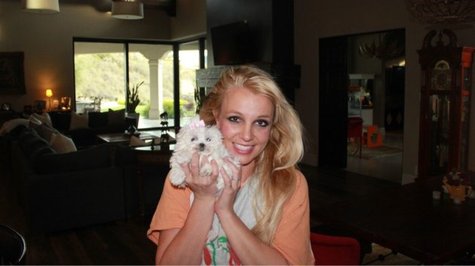 Three months ago, Britney Spears made the Internet collectively go "Awww" when she posted a picture of her new puppy, Hannah , who's since become quite the celeb, with more than 38,000 Twitter followers. Now, Britney's added to her family with a brand-new pooch, who she's also introduced on Twitter.
"Say good morning to my new baby people," Britney tweeted on Friday, and included a photo of her hoisting the tiny, adorable white furball, whose eensy-weensy head was topped with a itty-bitty pink ribbon. "Good Morning! She looks so pretty in my pink bow! :)" tweeted big sister Hannah. The new arrival's name was not revealed.
Recently, Britney teased her upcoming Las Vegas residency by having Hannah ask her via Twitter, "Mommy, are dogs allowed to gamble in vegas? Gonna cash all my bones in for chips." Apparently, Britney wants to have several pooches keeping her company in Sin City.
Copyright 2013 ABC News Radio