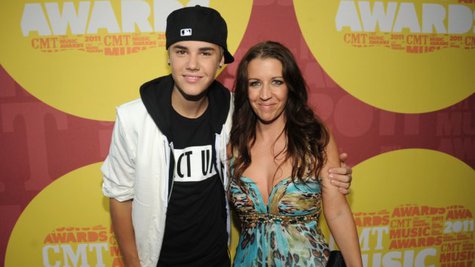 Looks like Justin Bieber 's manager and millions of Beliebers aren't the only ones ticked off that Justin Bieber didn't get one single Grammy nomination this year: his mom's pretty upset as well.
During an interview on Fuse , Justin's mom Pattie Mallette was asked how she felt about Justin's shutout. "I think they blew it," said Mallette with a smile. She added, "It's my boy, I'm a little biased, but yeah, I just heard that he's had five number one albums, so I think his music is speaking for himself."
When asked if Justin himself was disappointed about the nominations, Mallette said, "Of course, but I think it's kinda good in a way. It gives him something to strive for and a goal to go for."
By the way, it's not like Justin's never been nominated for a Grammy -- he has been, twice: once for Best New Artist and once for Best Pop Vocal Album, for My World 2.0 . The big disappointment here was that Justin felt that his album Believe was a huge step forward for him artistically, and he, his manager and his fans were surprised that he was not recognized for it.
Copyright 2013 ABC News Radio