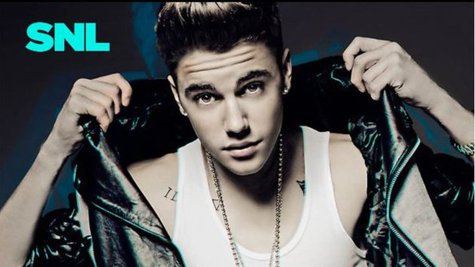 Justin Bieber did double duty as host and musical guest on Saturday Night Live this past weekend, and he proved to have a good sense of humor about himself, going along with spoofs of everything from his singing and dancing, to those photos showing him smoking pot.
Justin appeared in nearly every sketch and performed two songs acoustically: "As Long as You Love Me" and "Nothing Like Us," the breakup ballad he wrote about Selena Gomez . The overall show wasn't that amusing -- not really Justin's fault -- but several of the standout sketches showed his willingness to be mocked.
The opening monologue was based around the concept that both Valentine's Day and Black History Month fall in February: Justin went into the audience and offered young girls roses while delivering facts about notable African-American accomplishments...which were wrong. To one girl, he said, "Girl, you're driving me crazy...but did you also know that Denzel Washington invented the peanut?" The payoff was that Justin claimed he'd found the perfect girl, and presented a bouquet of roses...to Whoopi Goldberg.
One of the funniest moments of the show came in a welcome return of the recurring skit The Miley Cyrus Show , SNL cast member Vanessa Bayer reprised her role as Miley -- complete with new short blonde hairdo -- while Justin played the president of her fan club, Pete DeFalco. "Miley, you're seriously my favorite singer of all time. You're light years better than that douche Justin Bieber!" gushed Justin-as-Pete. When Bayer-as-Miley claimed that Bieber was her buddy, an angry Justin-as-Pete exclaimed, "You're kidding me, right? He looks like a like a lesbian!," acknowledging a long-running Internet joke.
Continuing his dissing of "Bieber," Justin continued, "I heard he still has his baby teeth." And then came the best line of the night: Justin said, "I also heard that he got busted for smoking weed, and he's really sorry about it, and that people make mistakes and he's never gonna do it again!"
As the audience exploded with laughter and cheers, Bayer-as-Miley said, sarcastically, "Yeah, right, me too!"
Another self-mocking sketch had Justin backstage at a concert with the head of security, played by Jason Sudeikis , who said that he would protect Justin by using a crowd of decoys that looked "exactly like him." Of course, none of them did, which Justin pointed out, saying, "Some of them are black. They're not fooling anybody." "Well, neither are you, homie," shot back Sudeikis. Oh, snap! The sketch also poked fun at Justin's singing voice, his dance moves and his penchant for saying "Swaggy." Unfortunately, it's not available online.
One of the final sketches had SNL cast member Taran Killam as the obnoxious big brother of Justin's character's girlfriend. He spent the entire sketch getting in Justin's face and mocking him for accidentally saying the word "glice" instead of "nice." Justin couldn't keep a straight face and finally cracked up mid-sketch at Killam's over-the-top antics...and after the show, he tweeted the hashtag "#glice."
Here's a rundown of the other characters Justin played:
--A runaway in the recurring sketch The Californians
--An Austrian guy in a promo for a fake Bravo show called The S**theads of Salzburg
-- A takeoff on the character of Danny Zuko in Grease , where he bragged about romancing a classmate in a 1950's high school, but was then revealed to only be 11 years old
--The nerdy head of the planning committee for a Valentine's Day school dance celebrating abstinence. "Don't do that thing until you get that ring!" he cautioned the booing students. "Don't go poking until 'I do' is spoken!"
--Himself, in a Valentine's Day message, lounging on a bed and inviting girls to have a "sexy time" with him -- but said "sexy time" was ruined by the presence of a bizarre character named Taco, played by SNL 's Bobby Moynihan .
Copyright 2013 ABC News Radio