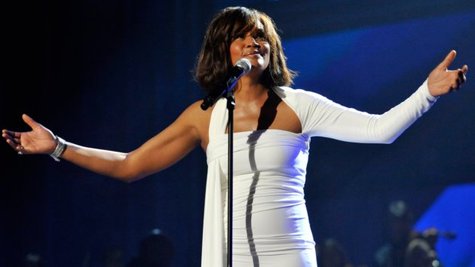 For many people, not a Grammy weekend will go by without thoughts of Whitney Houston , her legacy and what might have been had she lived past 48.
Monday marks a year since the singer was discovered unresponsive in the bathtub of her room at the Beverly Hilton Hotel, where, downstairs, her mentor Clive Davis was to host his 2012 pre-Grammy party. Whitney had been expected to attend the exclusive event, so news of her death came as a shock to her peers in the industry and to the masses of fans around the globe who had fallen in love with "The Voice."
Whitney had traveled a bumpy road since her start in the mid-'80s. Her early success came with criticisms, including accusations from some people who said she was a sellout. Her mother, Cissy Houston , whose Remembering Whitney book was released last month, said in a recent Today interview that her daughter was hurt by people calling her "Whitey." And attacks like those, along with later problems in her marriage to Bobby Brown , contributed to Whitney's bouts with self-medication.
Substance abuse issues often threatened to overshadow more positive aspects of Whitney's life, but when fans remember the singer one year after her death, they'll likely be thinking of her storied career. She sold more than 170 million albums and singles worldwide, and won six Grammy Awards, two Emmys and countless other honors.
Her powerful voice earned her a slew of hits, including the early ones, like "I Wanna Dance with Somebody" and "The Greatest Love of All." People still talk about Whitney's 1991 Super Bowl performance of "The Star-Spangled Banner," and who can forget her stirring rendition of "I Will Always Love You"?
This past Saturday night, as music's biggest stars once again gathered at the Beverly Hilton Hotel for Clive Davis' annual pre-Grammy party, many found it hard to believe that it had been a year since the death of one of the greatest voices of our generation.
"I remember sitting next to her two years before at Clive's party, freaking out that Whitney Houston was sitting next to me and my wife," OneRepublic frontman Ryan Tedder recalled on the red carpet. "Two years later I get a text from one of Clive's right-hand men...like, 'Hey, just so you know, Whitney Houston passed away,' and I didn't believe it. The next two hours, as I'm getting ready to come here, was, 'Is this even gonna happen? I don't know, I don't think it is, I think they're canceling it.' And it ended up happening and it was really weird.
Asked for his favorite Whitney memory, Miguel noted, "Any of the performances, I mean, I think that's what we all fell in love with Whitney for, was her voice and how amazing she was live, you know? Pick a Grammy performance and that's it."
Singer, songwriter and producer Akon noted that the location of Clive's party will always be associated with that terrible night a year ago. "It's like one of those situations where it's like, surreal, and every time you go past the Beverly Hilton, you're like, 'Damn, that's the place where Whitney passed,' y'know?," he said. "So it's just a sad moment, but it's a bittersweet moment today."
Shawn Stockman of Boyz II Men said he and the group regretted never working with Whitney, because it was a real possibility. "We saw her a couple years ago at the Grammys, actually, we were backstage together...we were all talking and we actually talked about doing a song together and we never did," he recalled to ABC News Radio. "So that was sad, just to know that, y'know, that'll never happen." He described Whitney as "down-home, homegrown...just a sister, just an aunt, just someone you love instantly."
Perhaps former 'N SYNC member JC Chasez said it best when he noted on the red carpet, "Obviously, people are moving on but her music's gonna live forever."
Copyright 2013 ABC News Radio