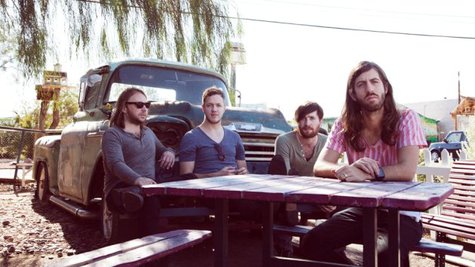 Imagine Dragons has released a deluxe edition of their gold-certified album Night Visions , featuring the hit "It's Time." Available now in physical and downloadable versions, the edition features five previously unreleased bonus tracks, including songs that have been part of the band's live shows: "The River," "America," "Selene," "My Fault" and "Round and Round."
In addition, a version of the new deluxe edition exclusive to Target and Target.com includes those five bonus cuts as well as two more tracks: " "Cover Up" and "I Don't Mind."
"We decided to release a special deluxe version of Night Visions that includes some songs fans have enjoyed at the band's live shows," says producer Alex Da Kid . "We hope to express our gratitude for their continued support."
Imagine Dragons, which is currently in the middle of a North American tour, has added a TV appearance to the schedule as well. The band will perform on The Late Show with David Letterman on February 21.
Here's the track-listing for the Night Visions deluxe edition, * denotes previously unreleased:
"Radioactive"
"Tiptoe"
"It's Time"
"Demons"
"On Top of the World"
"Amsterdam"
"Hear Me"
"Every Night"
"Bleeding Out"
"Underdog"
"Nothing Left To Say/Rocks"
"Working Man"
"Fallen"
"My Fault"*
"Round and Round"*
"The River"*
"America"*
"Selene"*
"Cover Up" * (exclusive to Target edition)
"I Don't Mind" * (exclusive to Target edition)
Copyright 2013 ABC News Radio