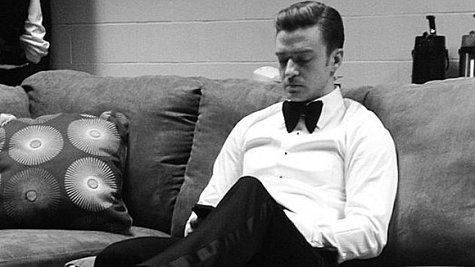 If you're not already crushing on Justin Timberlake , get ready to give in.
Neatly coinciding with Valentine's Day, JT has released his black & white "Suit & Tie" video, which shows him and collaborator Jay-Z oozing sexy confidence and rocking sharp suits.
Over the song's dreamy, horn-laced intro, we see Justin at a piano, and then getting a massage while he watches an unidentified pair of legs in black stockings kick it up on a bed. Then, as the singer lounges in bed, he's rolled backstage, where he plays chess with a barely-dressed model. After that, it's back to the crib to catch a basketball game on TV with Jay-Z. The rapper drinks a tumbler of what could be D'Usse cognac -- from his joint venture with Bacardi liquors -- while Justin munches on a bowl of cereal.
Cut to the backstage area, where several showgirls prance off stage, and Justin tosses aside his cigarette and turns it up a notch with some smooth dance moves. The singer does a James Brown slide to center stage where he commands his band and background singers. In between scenes of Justin dancing with an ensemble on the cavernous stage and in front of synchronized lights, we see him directing his band in the recording studio.
Jay-Z then emerges from the background and without abandoning his cigar, takes the mic. During the rapper's verses, women dance suggestively in silhouette and in the water. The video ends with slow motion shots of Justin jumping and showcasing more dance moves, this time on a water-soaked floor.
"Suit & Tie," is the first single from Justin's new album The 20/20 Experience , due in stores on March 19. A summer stadium tour that teams JT and Jay-Z is reportedly in the works.
Copyright 2013 ABC News Radio