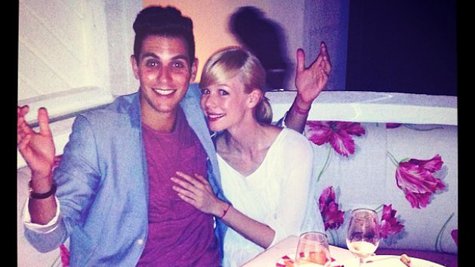 Cobra Starship singer Gabe Saporta has made at least one good girl go bad: his longtime girlfriend Erin Fetherston , who's accepted his marriage proposal.
Gabe tells People magazine that he proposed to Erin on New Year's Eve in Barbados by sneaking out and collecting coral and flowers from a nearby beach, and then arranging them to spell out his proposal on their patio.
Says Gabe, "I woke Erin up in a frenzy to come see a 'monkey' that had appeared in our backyard. My sleepy-eyed bride quickly realized the only monkey that morning was me … and of course, she said, 'Yes!'"
Gabe and Erin, a fashion designer, have been a couple since 2010, and have been talking marriage since this past fall. In fact, Erin even helped design her ring, but she didn't quite know when Gabe would give it to her. He even tried to fake her out on Christmas Eve by giving her a ring box...which contained a completely different ring.
The actual sparkler, reports People , is a Lorraine Schwartz-designed emerald-cut stone on a pavé platinum band that's been oxidized to give it a "vintage feeling." So far, there's no wedding date set, but Gabe promises, "It's gonna be a classy shindig."
Copyright 2013 ABC News Radio