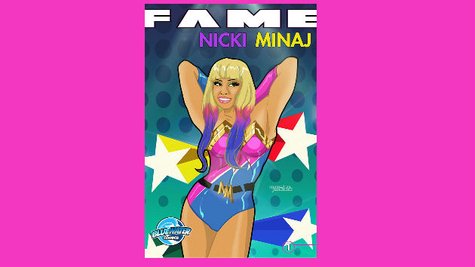 At times, Nicki Minaj seems to be a real-life cartoon character, but now, the pop star and American Idol judge is actually getting her own comic book.
The biographical comic Fame: Nicki Minaj is available now in print and digital form, and illustrates the entertainer's story from childhood to the present. There's even a glimpse into her drama with fellow American Idol judge Mariah Carey .
Fans can choose from two different Nicki covers, including one that shows her wearing a pink and blue strapless leotard with gold trim, and a belt bearing her "NM" initials. The other, "standard," cover shows a toned-down Nicki up close. In this one, the star tilts her head, lowers her eyes and throws a hand in front of her face.
The print edition of Fame: Nicki Minaj is available exclusively from Comic Flea Market . Digital versions are available at various digital retailers. Print versions cost $3.99, while digital copies go for $1.99.
Nicki isn't the only celebrity covered in Bluewater Comics' Fame series. Adele will be getting her own comic later this year, and other stars who've appeared as part of the Fame series include Lady Gaga , Taylor Swift , Britney Spears , Beyonce , Justin Bieber , Katy Perry , the cast of Glee and the cast of Twilight.
Copyright 2013 ABC News Radio