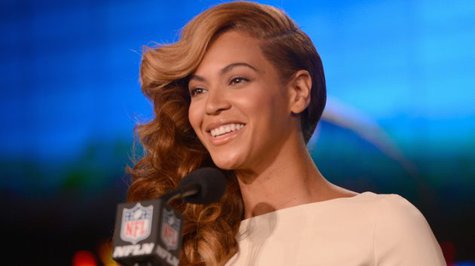 Over the past few years, the usually-guarded Beyonce has inched open the door to her long-guarded private life, sharing home photos on Tumblr and revealing glimpses of her behind-the-scenes world with her Beyonce: I Am... World Tour live concert film. But on Saturday night, Bey promises to give fans an unprecedented look at the woman behind the mystique, with the premiere of her HBO documentary Life Is but a Dream .
"I feel like it's time. It's time for people to really get to know me and to see a different side," Beyonce said at a press conference earlier this month. The singer is anxious about how audiences will respond to her Life Is but a Dream release, explaining, "I'm really curious and scared, and every night I'm like, 'Now it's too late. It's coming out,' but I'm happy with it."
As executive producer of the autobiographical film, Beyonce says, "It was really interesting directing and editing myself and seeing all the mistakes that I've made and, you know, still putting it in the film, and seeing life as if it wasn't me."
If you're wondering why the documentary is called Life Is but a Dream , here's a clue: during a Q&A with Oprah Winfrey , ahead of the New York City film screening, Beyonce mentioned that her daughter Blue Ivy 's favorite nursery rhyme is "Row, Row, Row Your Boat." Of course, the last line of that children's song is "life is but a dream."
In the upcoming documentary, Beyonce talks about her pregnancy with Blue, as well as an earlier miscarriage. Her husband Jay-Z touched upon that the loss when he released his song "Glory" shortly after he and Beyonce welcomed their baby girl into the world.
Speaking about her decision to show footage of Blue in Life Is but a Dream , Bey says, "I feel like my daughter has changed me and changed my life, and has given me so much purpose...I feel like my job is to protect her, and I'm happy that I could tell my story on my terms."
Life Is but a Dream premieres this Saturday at 9 p.m. ET on HBO. Before the big debut, though, Beyonce will appear on Oprah's Next Chapter , airing Saturday at 8 p.m. ET on OWN.
In a promo video from Beyonce's chat with Oprah, she says that becoming a mom did not take away her passion for performing. Although Bey does admit that she didn't know what she was getting herself into by planning to perform so soon after having Blue Ivy.
"I did a show three months after giving birth, which was crazy," she said, laughing. "I had clearly never given birth, and I didn't know that I would gain 60 pounds... 57 pounds."
During the interview, Beyonce talks more about the pregnancy, and she also shares how she and Jay-Z built their relationship over the years.
Copyright 2013 ABC News Radio