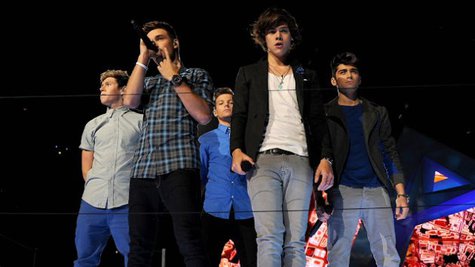 The Grammy Awards are over, the nominees for Canada's Juno Awards have been announced (see related story) and Wednesday night in London, music's top names will be competing for the Brit Awards, the U.K.'s top music prize.
The Brit Awards present trophies to British acts and so-called "international" acts, which is why everyone from Rihanna and Gotye , to fun. and Alicia Keys are nominated. The Script , Taylor Swift, The Killers, Bruce Springsteen and Michael Buble are also all nominated in the various international categories.
As for the British categories, Adele is up for British Single for her James Bond theme "Skyfall" and according to the BBC , she's also in the running for a brand-new "global success" award, given to an artist who achieved exceptional international sales in 2012. It's not clear if she'll make it to the show, though, since she's been in the U.S. for the past few weeks rehearsing for her performance on the Oscars this Sunday night.
But even if she doesn't show, the award show organizers have promised to "make amends" to the singer for forcing her to end her acceptance speech early last year. You may recall that after she won the Best British Album prize, the host of the show cut her off because they were running out of time, leading Adele to very publicly flip the bird to those responsible.
Other nominees in that category include Alex Clare 's "Too Close," Coldplay 's "Princess of China" and Jessie J 's "Domino." Meanwhile, One Direction are up for British Group, and Calvin Harris and Olly Murs are up for British Male Solo Artist.
In a possibly awkward moment, both One Direction and Taylor Swift -- who used to date 1D's Harry Styles -- are performing on the telecast. Justin Timberlake will also be on hand, with the same big band that backed him up on the Grammy Awards earlier this month.
Copyright 2013 ABC News Radio