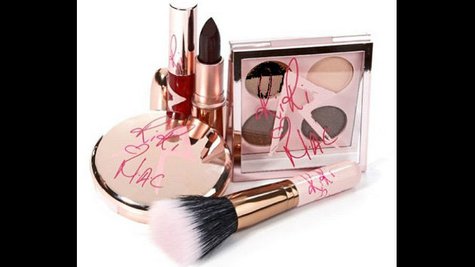 Rihanna 's 25th birthday has gotten off to a profitable start. The singer celebrated Wednesday by announcing a brand-new creative partnership she has with MAC cosmetics. The partners will collaborate on multiple collections this year.
" That's right baby, I'm a #MACgal now! Get into it, package designed and products created from scratch by yours truly!..." Rihanna announced on Instagram . In the photo's caption, Rihanna thanks MAC for giving her the "opportunity to play and share my favorite s**t with my fans and yours."

The singer gives her Navy fanbase a preview of what's to come from her and MAC, sharing a photo of a compact, tube of lipstick, lip gloss and other items, all encased in rose gold and light pink packaging. Each item is marked with "RiRi [Hearts] MAC." The first product that's up for release is Rihanna's RiRi Woo lipstick, which is inspired by the singer's favorite MAC red, Ruby Woo, according to Women's Wear Daily .
"When you think of makeup, the brand that pops into your mind -- for something legit -- is MAC," Rihanna tells WWD . "Whatever color you want, it's like 'Let's go to MAC.'" Rihanna says she long used MAC on tour, adding, "I have always loved makeup, and I always said that if I do it, I want to do it with a credible brand."
Four distinct color collections from the "RiRi [Hearts] MAC" line are on the way in 2013. RiRi Woo will be available at Rihanna's upcoming concerts and online, according to WWD . A summer collection is up next, which will be sold online. Fans can head to brick-and-mortar stores for Rihanna's fall products, the magazine reports. A holiday collection is also planned.
Rihanna, who recently debuted her clothing collection with British retailer River Island, tells WWD that she "really got to play" with the MAC collection. She even says that she tested out the makeup colors and textures on her friends.

Copyright 2013 ABC News Radio