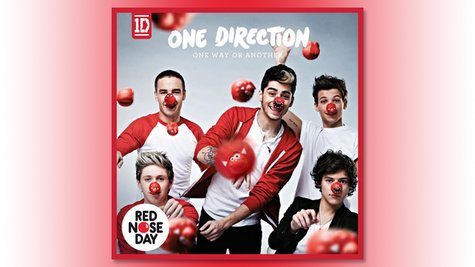 They've been teasing it for quite some time but now, One Direction has finally debuted the video for their charity single, "One Way or Another (Teenage Kicks)." The wacky, low-budget clip was shot by the boys themselves, and features a special guest star: British Prime Minister David Cameron .
The video opens with shots of the guys driving through Africa, and Louis Tomlinson saying, "This year we decided to make a single to raise money for Comic Relief." Zayn Malik continues, "Comic Relief are a British charity that do amazing work helping people all over Africa and in the U.K. living with really tough lives."
Harry Styles then chimes in, "So instead of spending a load of money on a music video, we decided to make it ourselves while we were on tour and give the money we saved to Comic Relief."
The video is a travelogue that follows the boys through Africa, Japan, New York City and their native U.K., during which much goofiness ensues. Remember last year, when the guys were stopped in New York City and pulled over by the police for filming while driving down the street? This video is what they were shooting.
You'll also see shirtless Zayne in bed, and topless Niall Horan soaping up in the shower. At the end of the clip, the boys are seen singing in front of Number 10 Downing Street, the official address of the British prime minister. The door opens and P.M. David Cameron comes out, looking annoyed and puzzled that the 1D dudes are cavorting on his doorstep. But later, he smiles happily as he's surrounded by the singing fivesome.
As for why the guys are wearing red clown noses in the clip, it's because the whole project benefits Red Nose Day , an annual charity event that raises money for Comic Relief. On Red Nose Day, everyone is encouraged to "do something funny for money." This year's Red Nose Day is March 15, and big stars are always involved. In fact, Jessie J has sworn to shave her head live on TV to encourage people to donate money.
By the way, the actual song "One Way or Another (Teenage Kicks)" is a mash-up of " One Way or Another ," by seminal '80s new wave group Blondie , and " Teenage Kicks ," by the Irish punk band The Undertones . The chords in both songs are very similar.
Copyright 2013 ABC News Radio