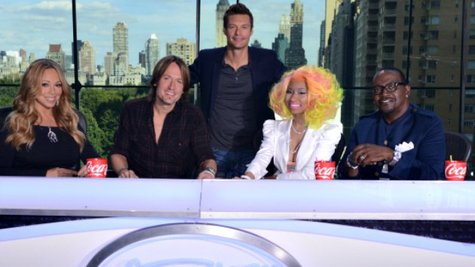 American Idol 's sudden death round continued Thursday night with 10 guys competing for just five spots going forward in the competition. Judges Keith Urban , Nicki Minaj , Mariah Carey and Randy Jackson made the decisions on who got to stick around.
In the end, Curtis Finch, Jr ., Elijah Liu , Paul Jolley , Charlie Askew and Devin Velez survived the sudden death round. Here's what happened:
Paul Jolley kicked off the night singing Keith's song "Tonight I Wanna Cry," and he seemed to connect with the sad lyrics. There were some pitch problems towards the end though. Keith was honored Paul chose to do his song and warned him not to over perform. Nicki thought Paul's voice was there but said he got too theatrical with his performance. Randy liked that Paul had a big range and wanted to sing country music, and Mariah enjoyed the intimate feel of the first part of Paul's performance. The judges had a split decision on Paul, so Jimmy Iovine came in with the tie breaking vote to keep Paul in competition.
Johnny Keyser got cut at this point in the competition last season, so he had a lot riding on his performance of Jason Mraz 's "I Won't Give Up." Johnny didn't find his vocal footing until the chorus, and the performance lacked charisma overall. Keith said it was his best performance so far this season, and Nicki said Johnny looked really sexy. Randy called it a "just OK" performance, and Mariah said Johnny was worthy of sticking around. Johnny's journey ended in Vegas again this year.
Gender-bending JDA brought the glitter and drama performing Adele 's "Rumour Has It." The judges were really into it when JDA hit the floor to deliver the bridge and then closed it out ripping off his jacket to reveal a midriff-baring top. Keith said JDA was right at home on the Vegas stage and liked that he put on a show. Nicki called JDA "Miss Lady" before telling him to "Work it, girl." She called him a superstar performer who really worked the room like a pro, but Nicki didn't like JDA's vocal. Randy urged JDA to worry more about the vocal performance, but Mariah felt JDA had a major confidence level. JDA said the confidence came from his high heels, but that wasn't enough to help him survive this round.
Kevin Harris , who Randy nicknamed "Butter," gave a smooth performance of Bryan Adams ' "Everything I Do (I Do It for You)." Keith loved the song choice and Kevin's "crazy range." Nick called the performance "perfection" and praised Kevin's vocal control. Randy was bored with Kevin's performance calling it "karaoke," and Mariah felt the song choice held him back vocally. Kevin didn't survive this round.
Chris Watson worked the stage wearing a bedazzled jacket, pants and head band as he sang an uptempo version of Otis Redding 's "(Sittin' On) The Dock of the Bay." His energetic stage presence compensated for his somewhat lackluster vocal performance. Keith said Chris's voice wasn't the best, but his performance and outfit were on point. Nicki said Chris was the prettiest man she's ever seen, and she praised his "soulful, raspy uniqueness." Randy didn't feel Chris's vocal performance went anywhere. Mariah didn't think it was his strongest vocal performance, but she liked his look and spirit. Chris didn't make it to the next round though.
Devin Velez sang a portion of Beyonce 's "Listen" from Dreamgirls in Spanish and earned a spot in the top five. Keith loved that Devin connected to the audience using just his voice, and Nicki liked his choice to sing in Spanish because it opened him up to the Latin market. Randy called Devin's performance "amazing" and praised Devin's big key change. Mariah warned Devin against critiquing himself too hard as he performed.
Elijah Liu gave off a Justin Bieber vibe as he sang "Talking to the Moon" by Bruno Mars , but Eljah's voice got lost when he went into his head voice. There were pitch problems too, but he ended up surviving this round. Keith liked Elijah's song choice and look, but he found the vocal performance "shaky." Nicki told the 18-year-old Elijah she wanted to have his babies and said she would sign him today. Randy said they're pulling for Elijah even though he had no moments Thursday night. Mariah felt Elijah had some great moments though and loved that he is Mexican and Chinese.
Charlie Askew seemed extremely nervous singing Elton John 's "Rocket Man (I Think It's Going to Be a Long, Long Time)" but he overcame it to survive the sudden death round. Charlie came alive at the end, grandstanding with his microphone though. Keith loved Charlie's "originality" and "unpredictability," and Nicki said it was the smartest song choice of the night. She also said Charlie's awkward, weird demeanor excited her. Randy was disoriented by Charlie's performance and called it "a bit stage school." Mariah loved the song choice, but she preferred his previous vocal performances over this one.
Jimmy Smith sang the second Keith Urban song of the night, "Raining on Sunday." Keith said it was hard to critique someone singing his own song, but he thought Jimmy did a good job with it. Nicki was a little bored with it, and Randy didn't think it came together either. Mariah said Jimmy had a good quality, but she wasn't sure he was up to this much pressure. Jimmy ended up getting cut.
Curtis Finch, Jr. took the stage last singing Luther Vandross 's version of "Superstar," easily delivering the best vocal performance of the night and securing a spot in the top five. Keith said it was really beautiful and he would like to hear more of it. Nicki said Curtis raised the bar every time he came out, and Randy said Curtis's voice was "unparalleled." Mariah said his performance moved her to tears with his voice and musicality.
American Idol 's sudden death round continues next Wednesday night at 8 Eastern time on Fox.
Copyright 2013 ABC News Radio