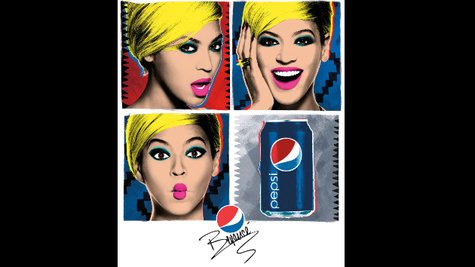 Beyonce has released a video teaser for her Mrs. Carter World tour proving that the singer truly is the "Queen Bey." The slo-mo video shows the superstar ornately styled in royal gowns and accessories, holding court in anticipation of her four concerts in London in April and May.
As the teaser opens, Beyonce is seen wearing a gold, bedazzled shorts ensemble as her royal attendants adorn her with finery and jewelry, including a gem-encrusted chain featuring a photo of hubby Jay-Z. She's spritzed with perfume, and outfitted in a flowing, royal blue gown in her dressing room.
After she accepts her scepter, the singer emerges from her boudoir and is flanked by a troupe of military-styled dancers. Music plays in the background as Beyonce moves in formation with dancers, and a DJ dressed as a court jester spins records at a turntable and laughs maniacally. Images bend and stretch as Beyonce poses and others dance around her.
Next, the video flips to black & white behind-the-scenes footage, while an announcer hypes the February 28 on-sale date for the London shows. Beyonce kicks off the North American leg of her tour on June 28 in Los Angeles.
In other Beyonce news, the singer has debuted some colorful advertising artwork for Pepsi that isn't a hit with everyone.
Beyonce used Facebook to showcase the four brightly-colored images reminiscent of the Marilyn Monroe paintings done by pop artist Andy Warhol . The ads show the singer looking alternately vampy, surprised, and showing off puckered lips, alongside a Pepsi can. In the artwork, Bey is styled with yellow-colored side-swept hair, green eyeshadow and hot-pink lipstick, but it's her light skin tone that's triggering some unenthusiastic comments.
Bey posted the images with her comment, "Pop Art inspires me to Live for NOW. " While many appreciated the artwork, some took issue. One commenter wrote, "O h cool, more whitewashed Beyonce," and another posted, " Why did they make Beyonce look like a blonde haired white woman?? "
According to E Online , Pepsi was not immediately available for comment.
Copyright 2013 ABC News Radio