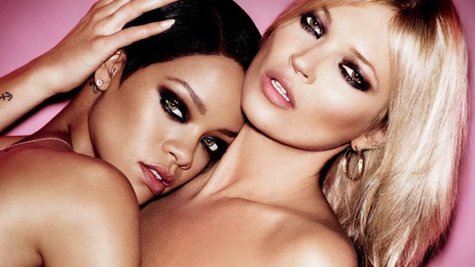 What's hotter than a scantily-clad Rihanna sexing it up for a celebrity photographer in a high-fashion magazine spread? Doing the same spread with an equally-scantily clad Kate Moss , the legendary supermodel.
The extremely sexy photos of Rihanna and Kate were shot by Mario Testino for V magazine , and show the two icons pawing each other and playing with male/female gender roles. The concept came about last February, when Kate and Rihanna, who first met in 2009, both attended a Stella McCartney fashion show in London. Testino asked Rihanna to schedule a photo shoot, and Kate, overhearing, asked if she could be part of it as well.
"I was dying on the inside," Rihanna tells V. "All my fantasies were coming true all at once: Mario, V , Kate Moss. I was like, 'This is an amazing threesome!'"
Rihanna also tells the magazine that one thing she admires about Kate is that she's still smokin' hot, even though she's now a mom. "I didn't know she had a child, and she still looks like this? So there's hope for people who want babies and still want to be sexy," she tells V.
As for the photo shoot, Rihanna says her favorite part was when the two got naked. "That was the best shot," the singer laughs. "Take her top off and put that b***h in my lap!"
Asked if she and Kate would get topless with each other again, Kate replies, "In a heartbeat," while a coy Rihanna laughs, "That depends on the terms, but I'm sure Kate knows them."
Copyright 2013 ABC News Radio