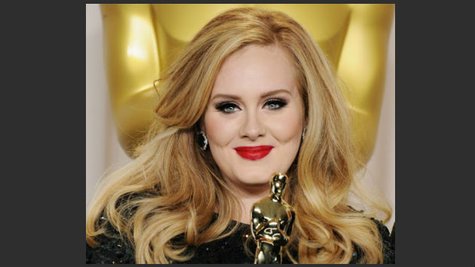 Before the Oscars on Sunday night, Adele had joked that she might try to go for an "EGOT" -- the collective name for winning an Emmy, Grammy, Oscar and Tony. Well, now the singer's halfway to her goal, picking up the Academy Award for best original song for her James Bond theme "Skyfall." It'll look nice on her shelf next to her nine Grammys.
Adele also performed "Skyfall" on the Oscars telecast on Sunday, delivering it live for the first-time ever, against a shifting backdrop of twinkling stars, and then red and black swirls that looked like blood in water. When her name was called as the winner, along with her co-writer Paul Epworth , she declared the win "amazing" and then got emotional thanking everyone who believed in her ability to do the song. She also thanked her baby daddy, Simon Konecki , who'd convinced her to take on the assignment, choking out, "My man, I love you baby."

Backstage, Adele spoke about how she could complete her "EGOT" by winning an Emmy and a Tony. "Maybe I'll do an HBO special like Beyonce did," she laughed. As for a Tony, she said, "I'm not so sure...maybe one day, maybe someone may want to do a musical," referring to her collaborator Paul Epworth. But she added that writing one herself is "not my kinda thing."
As for her post-Oscar celebration plans, the new mother said she wasn't going to be doing much partying, since she had to get up at 6 a.m., and because lately, she's such a lightweight when it comes to boozing. "One glass of champagne and I'm gone, these days!" she laughed.
Copyright 2013 ABC News Radio