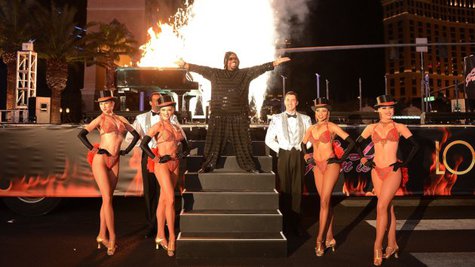 Tonight, fans in Las Vegas will get a chance to see one reason why Cee Lo Green isn't going to be on the new season of The Voice , as he kicks off his brand-new residency at Planet Hollywood Resort & Casino.
Cee Lo's show Cee Lo Green Is LOBERACE gets underway Wednesday night in Sin City, and will feature the multi-talented entertainer taking the audience on a ride through music's different decades, from new wave and disco, to funk and rock and roll. Described as "part Las Vegas concert, part dance party," the show will feature Cee Lo's usual over-the-top, flamboyant costumes, plus sexy showgirls and "mind-twisting magic."
Cee Lo marked the show's kickoff by arriving Tuesday night at Planet Hollywood riding on a flatbed truck, surrounded by dancing showgirls while playing a flaming piano. As he arrived at his new home, he placed his hand prints in cement, and personally thanked Las Vegas, Planet Hollywood and his sponsors.
The first batch of LOBERACE dates will be Wednesday and Thursday night, and then throughout March and into April, wrapping up April 13. But parents who want to bring your kids, beware: because of the adult nature of the show, it starts at 11 p.m. Wednesday through Friday, and on midnight, Saturday. Visit Ticketmaster.com for tickets.
Copyright 2013 ABC News Radio