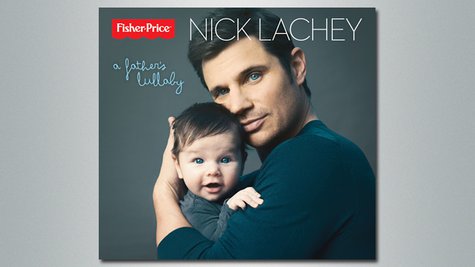 In March, proud papa Nick Lachey will release an album of lullabies.
The singer recorded the album A Father's Lullaby to celebrate the birth of his son, Camden , born to Nick and wife Vanessa last September. The 12-song album includes four original songs co-written by the 98 Degrees singer, as well as eight other classic songs he selected for the project, a partnership with Fisher-Price, Inc.
"When I first learned that I was going to be a father, I was inspired to create a special tribute to my son," Nick says in a statement, adding that the album is an ideal way to share his feelings through "music, [which] has always been an incredibly significant part of my life."
Working on the lullabies for Camden, adds Nick, "allowed me to further connect with [him] while also sharing the experience with families who are on a similar journey of welcoming a new life into their world."
The singer's co-writing duties began even before Camden was born. Lachey hummed "Sleepy Eyes" to Camden while he was still in the womb. Nick was inspired by his son and father John when he co-wrote the title song, which is about love passing between generations. In addition to the original song "Once Upon a Time," Nick also co-wrote "Another Day Is Done," about cherishing life's moments and memories.
Nick selected other cover songs for the album, including "All Through the Night," "Baby Mine," "All the Pretty Little Horses," "When You Wish Upon A Star," "Godspeed (Sweet Dreams)," "Hush, Little Baby," "Brahms' Lullaby," and "You Are My Sunshine," which his late grandfather used to sing to Nick as a child.
While Nick may be singing Camden to sleep, he won't be getting much himself. On May 7, 98 Degrees will release 2.0 , their 5th studio album. The band will kick off the Package Tour with New Kids on the Block and Boyz II Men on May 28 in Connecticut before wrapping up on August 4 in Indiana.
Copyright 2013 ABC News Radio