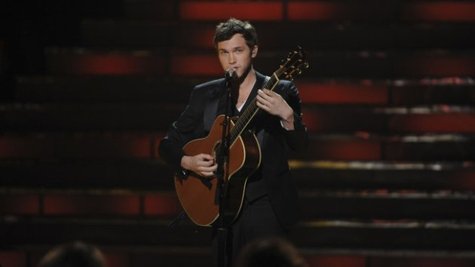 When it comes to American Idol "goodbye" or "send-off" songs -- you know, the tunes that are played each season as the contestants are sent home -- Idol likes to keep it all in the family. The show usually turns to one of its alumni for the "boot" song, and this year is no different: Idol will be using Phillip Phillips ' "Gone Gone Gone."
The song is Phillip's new single from his album The World from the Side of the Moon, and it's the follow-up to his quadruple platinum smash "Home." As previously reported, Phillip will perform the song on the March 14 results show.
The tradition of American Idol "send-off" songs started during season five, when Daniel Powter 's "Bad Day" was used, and became a massive hit. Since then, the "send-off" songs have had varying success. They include:
Season 6: "Home" by Daughtry
Season 7: "Celebrate Me Home" by Ruben Studdard [ Kenny Loggins cover]
Season 8: "Home Sweet Home" by Carrie Underwood [ Motley Crue cover]
Season 9: "Leave Right Now" by Will Young [first winner of Pop Idol, the show American Idol's based on]
Season 10: "Don't You (Forget About Me)" by David Cook [ Simple Minds cover]
Season 11: "Please Remember Me" by Scotty McCreery [ Tim McGraw cover]
Phillip is just finishing up his tour with Matchbox Twenty , and next month, he kicks off a headlining college tour.
Copyright 2013 ABC News Radio