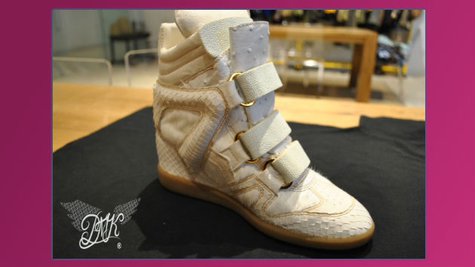 Beyonce 's custom-made Isabel Marant sneaker wedges have been deemed a fashion no-no by the People for the Ethical Treatment of Animals. PETA says in a statement to ABC News Radio that the "King Bey" kicks "come with a high price -- and it's paid by the various animals who were beaten and skinned alive or cruelly farmed and killed."
It's not clear how involved Beyonce was in creating the sneaker that she inspired, but according to the PMK Customs website , the company was "summoned by King [Bey] and given the task to create a custom design worthy of her approval."
Designers used stingray, ostrich, crocodile and anaconda skin, along with calves' fur, to make the shoes. That's certainly an exotic mix of material, but PETA is not impressed.
"Although most people aren't as familiar with the types of animals...killed for this single pair of sneakers as they are with the cats and dogs we share our homes with, these animals are highly sensitive living beings who try hard to avoid capture and suffer enormously when trapped, netted, speared, and skinned alive," the organization writes.
Going forward, PETA hopes that Beyonce will "choose to wear more clothes from her own clothing line -- which features faux fur -- and that one day, she'll go completely cruelty-free."
Copyright 2013 ABC News Radio