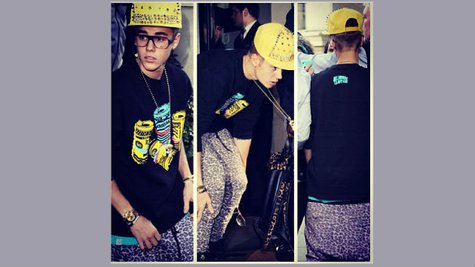 Hey, did you see that picture of Justin Bieber in London wearing a huge, bright yellow baseball cap with metal spikes all over it? Well, Damon Lindelof sure did. The man who co-created Lost and co-wrote the upcoming movie Star Trek Into Darkness spent hours on Wednesday tweeting his thoughts on Justin's hat and how ridiculous he thought it was.
It all began with a tweet from Lindelof, in which he said, "Dear Everyone Asking What I Want For My Birthday This Year, THIS EFFING HAT. Love, Damon." He included a link to the Bieb sporting the dangerously-pointy looking headgear, and then added, "For all those following me, please be aware that I will be obsessively tweeting about Bieber's hat for the next NINE HOURS."
Lindelof didn't disappoint, attempting to create his own Bieber meme and keeping up a steady stream of Bieber hat-related tweets, such as:
--"The dude from The Black Keys is buying a larger, spikier hat right now."
--"Bieber: 'How much for the huge yellow hat with spikes that looks painful?' Clerk: 'Fourteen Million Dollars.' Bieber: 'Sold, b***h!'"
--"Yellow is a girly color unless it is covered in poison-tipped spikes and on Justin Bieber's head."
--"The only excuse for that hat is to block Professor X from reading Bieber's mind."
--"That hat is f***ing ridiculous." -- Johnny Depp , to Bieber, whilst wearing a dead peacock on his head."
--"Bieber's hat is like one of those plants that looks that way to protect itself from predators."
--"Tweeting about Bieber's Hat is like unlimited breadsticks at The Olive Garden. I should stop, but I can't."
It was then apparently pointed out to Lindelof that he should be teasing Justin about his pants , which were a purple leopard skin pattern with a super-baggy rear that made it look like the singer was wearing a full diaper. Lindelof tweeted, "What pants? Hold on... I'm googling it n -- HOLY CHRIST ARE YOU SERIOUS?!?"
Justin hasn't responded to Lindelof's tweets, but he did post a picture of his outfit and the hat on Instagram . He explained that when someone in his camp expressed disbelief that he'd go out dressed like that, he said, "W atch me," adding, "A haha too colorful next time im gonna wear a black hat."
Justin then explained the hat by saying that it was a gift. "A fan did get me this hat so I'm glad I wore it :)," he wrote.
Copyright 2013 ABC News Radio